Kia Niro EV specifications
EVKX.net gives you the full specifications for Kia Niro EV.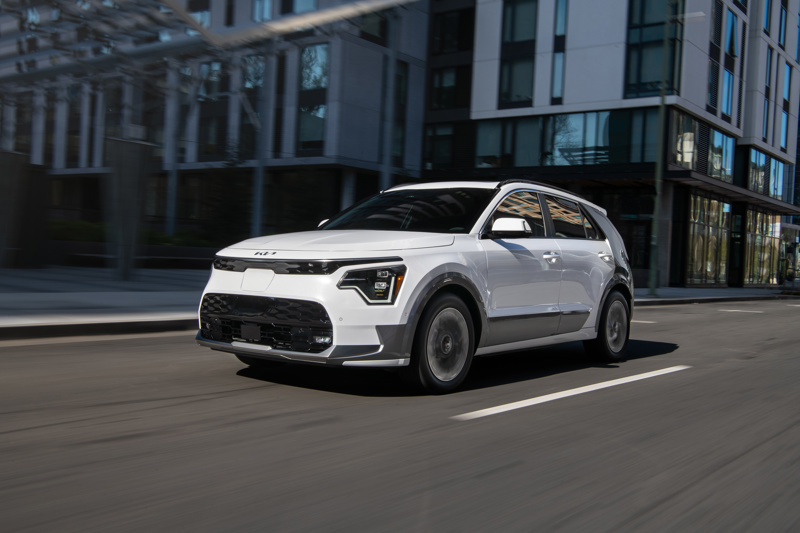 EVKX.net seeks to have the most complete specifications for Kia Niro EV. Click on image above for full article, visit the image gallery for high-res images of Kia Niro EV, visit the chargeinfo for Kia Niro EV with chargecurve, vist extended range info for real world ranges.
Performance
| Spec | Value |
| --- | --- |
| Peak electrical output in kW | 150 Kw |
| Electrical torque output in Nm | 255 Nm |
| Top speed | 167 km/h |
| 0-100km/h (0-62 mph) | 7,8 s |
Range & Consumption
Below you see the offical range info. Visit our extended range info for detailed real world range examples. Visit our Range Guide to see what affects range and how the offical range values are measured.
| Spec | Value |
| --- | --- |
| WLTP range | 463 km |
| WLTP consumption | 14,0 kWh/100km |
| WLTP consumption with charging loss | 16,4 kWh/100km |
Battery & Charging
Dimensions
| Spec | Value |
| --- | --- |
| Length | 4420 mm |
| Height | 1545 mm |
| Width excluding mirrors | 1825 mm |
| Wheelbase | 2720 mm |
| Track width front | 1573 mm |
| Track width rear | 1585 mm |
| Turning circle | 10,2 meters |
Suspension
| Spec | Value |
| --- | --- |
| Adaptive suspension | Not available |
| Adjustable damping front | Not available |
| Adjustable damping rear | Not available |
| Adjustable height front | Not available |
| Adjustable height rear | Not available |
| Max ground clearance | 160 |
| Minimum ground clearance | 160 |
| Suspension type front | SteelSpringsWithOilDampers |
| Suspension type rear | SteelSpringsWithOilDampers |
Interior
Front seats
Front seats
Driver Assistance
| Spec | Value |
| --- | --- |
| Lane keeping | Yes, standard equipment |
| Lane departure warning | Yes, standard equipment |
| Drowsiness Alert | |
| Reversing camera | Yes, standard equipment |
| 360 camera | Yes (Surround View Monitor), optional equipment |
| Rear cross traffic alert | Yes, standard equipment |
| Rear parking sensors | |
| Front parking sensors | |
| Side parking sensors | |
| Hill descent assist | |
| Hill start assist | Yes, standard equipment |
| AntiLock Braking System | Yes, standard equipment |
| Automatic emergency braking | Yes, standard equipment |
| Brake assist | Yes, standard equipment |
| Traction control | Yes, standard equipment |
| Left turn crash avoidance | |
| Forward Collision Warning | |
| Electronic stability control | Yes, standard equipment |
| Temperature warning | |
| Cross traffic assist | Yes, standard equipment |
| Speed limiter | |
| Efficiency assist | |
| Automatic Emergency Steering | Yes, standard equipment |
| Traffic Sign Recognition | Yes, standard equipment |
| Night Vision | Not available |
Infotainment
| Spec | Value |
| --- | --- |
| Android Auto support | Yes, standard equipment |
| Apple Carplay support | Yes, standard equipment |
| In Car navigation | Yes, standard equipment |
| Number of avaiable sound systems | 2 |
Standard
| Spec | Value |
| --- | --- |
| Number of speakers | 6 |
| Channels | 4 |
Meridian Premium Sound System
| Spec | Value |
| --- | --- |
| Number of speakers | 14 |
| Channels | 8 |